2020 and the global pandemic had more than its fair share of challenges. But it was also an explosive year as far as innovation goes. The way we work has shifted and changed. And just like all other industries, the language service provider industry has had to embrace a digital-first approach with all its operations. Remote interpreting apps were some of the most noteworthy improvements in the industry. 
Out of all the language services, interpreting was perhaps the hardest hit, facing heaps of fundamental changes in how this in-person service had to be delivered. Instead of slowing down, interpreters found new ways of providing their expert services remotely, and that's where the boom of remote interpreting platforms was born!
Remote interpreting works for just about any and every interpreting need, including board meetings, webinars, and training courses. Thanks to remote interpreters, event attendees can listen to the presentation in their language without being hampered by pauses and delays usually associated with event interpreting.
Even during the first half of 2021, these platforms and apps have gone above and beyond what we expected of them at the start of 2020, and thanks to tremendous tech advances, it's highly likely that they'll keep improving over the months to come.
With that being said, here's a look at the most popular and reliable remote interpreting apps and platforms currently available to interpreters and their clients!
Top Trending Remote Interpreting Apps and Platforms
#1 Day Interpreting 
The Day Interpreting dashboard and intuitive app gives you the opportunity to seamlessly connect to an interpreter when you need it most, and since the service is available  24/7, 365 days a year, you can rest assured that you'll never have to wait to get connected to a qualified and highly experienced interpreter. 
The innovative, real-time app and dashboard can be used for seamless virtual remote interpreting services, regardless of whether you need spoken or sign language interpreting services. Our platform connects the best professional interpreters to clients that need them instantly. With an online dashboard and intuitive mobile app,  Day Interpreting is setting the stage for VRI within the healthcare industry and beyond!
Technical Requirements for the Remote Interpreting Apps
Registered Day Interpreting Account

Internet Connection to use the Dashboard OR calling the toll free number for phone interpreting services
Recap:
Not reliant on external programs like Zoom or Skype

Supports several interpreting methods

On-demand, real-time connection to expert interpreters

Intuitive app available for Android and iOS

No hidden fees

No contracts
#2 – KUDO
KUDO is an event and remote interpreting platform wrapped up in one neat package, and because it's a two-in-one platform, it doesn't rely on external services like Zoom or Skype. KUDO comes highly recommended for its plethora of features and great user interface. The platform supports document uploading, messaging, and chat for event participants, polling, and screen sharing. It also features separate interfaces for the interpreter and even attendees.
Since KUDO supports several streams at once, interpreters can switch between channels as and when needed. It also has a relay function and a handover function. It's worth mentioning that KUDO has one of the most complicated multi-stage handover processes out there, which is why it comes with its own set of in-depth instructions.
KUDO's unique handover process was made with interpreting partners in mind that aren't located in the same geographical area. Although handovers can usually cause bottlenecks in interpreting processes, KUDO's complicated handover setup might be somewhat of a distraction with all its request and confirmation prompts.
The fact that KUDO has a robust mobile application for Android and iOS backed by technical support makes it one of the most versatile and valuable platforms, not only for event participants but also for professional interpreters.
Technical Requirements for the Remote Interpreting Apps
Sound and graphics card

An additional LCD monitor, 20-inches or larger

Two professional USB headsets for backup

8GB RAM, Intel i7 Core Processor, 15-inch monitor, cordless mouse

APC Smart UPC unit as a power backup

Google Chrome or Mozilla Firefox browser

Stable, wired internet connection.

Network speed of at least 5Mbps for uploads and downloads
Recap:
Event and interpreting platform in one

Not reliant on external services like Zoom or Skype.

Supports a wide range of features, including screen sharing and file uploading.

Supports several streams simultaneously.

Very complicated handover setup.

Offers mobile applications for Android and iOS.

Technical support offered around the clock.
#3 – Interprefy
Another popular platform is Interprefy, and just like KUDO, it's also an event and interpreting platform in one. This means you can host your online events directly on Interprefy if you don't want to use an external program like Microsoft Teams or Zoom.
Although Interprefy also has many functions and buttons on its interface, it is a little more straightforward than KUDO's interface. You'll find incoming and outgoing language channels in your top panel, including the source language, relay, and the languages being interpreted for.
The interface also features a microphone button and two chat windows. The first chat window is for booth interpreters and moderators, and the second is an event chat channel used by the interpreters and moderators working the event.
Interprefy's handover process is nontransparent, so many confirmations need to be clicked through before the handover happens. Due to the multiple stages of Interprefy's handover process (which is very similar to KUDO), it's often easier to use a manual handover process and communicate with your interpreting partner on another platform.
Technical Requirements for the Remote Interpreting Apps
Intel Core i5 (or something similar), 4GB RAM, Windows 10 or higher), and OS X if you're using Mac.

Backup computer or tablet

Ethernet connection with at least 8Mbps download and 4Mbps upload speed.

Professional USB microphone

Professional, noise-canceling headphones.

Google Chrome and Teamviewer
Recap:
Event and interpreting platform in one.

Feature-packed interface.

Complicated and overly detailed handover process.

Excellent technical support that offers fast responses to any queries.  

Mobile app available on Android and iOS.
#4 – Voiceboxer
Like KUDO and Interprefy, Voiceboxer is yet another two-in-one platform that facilitates events and remote interpreting, so you won't need any other programs to run your online events if you choose to use Voiceboxer.
The interface on Voiceboxer features two video channels, one of which is reserved for slide presentations, the other displaying the speaker's video. It also features a variety of audio channels and two default channels for each type of audio.
One of the features that sets Voiceboxer apart from the platforms mentioned above is that there's no microphone button for handover. One member of the interpreting team has their microphone on by default when the event starts. This makes it much easier to complete the process on Voiceboxer. Unlike KUDO and Interprefy, the handover can be done in a straightforward request, and confirm click from both partners eliminates the need to manually discuss and time handovers.
Response time can vary when it comes to Voiceboxer's technical support. Sometimes it takes a day for support to get back to you, but it could also take a few days. There is, however, a contact email for support in case you need assistance ASAP.
Technical Requirements for the Remote Interpreting Apps
High-speed internet connection

Professional headset

Google Chrome browser
Recap:
Interpreting and event platform

Easy to use interface.

No microphone button for handover.

Handovers are quick and straightforward and require just one request and confirmation to complete.

Technical support response time can lag from time to time.

Minimal technical requirements to get started.

No mobile app available.
#5 – Interactio
Interactio, another remote interpreting and event platform, supports screen sharing, document uploading, and chat messaging. Like Voiceboxer, it also has a separate interface for event participants and interpreters.
By default, the interpreter's interface features two incoming and outgoing audio channels, but it's possible to add more channels. Unlike many other platforms, Interactio indicates the interpreter's streaming time, which can be very helpful.
Interactio offers a handover and relay function, just like all the previously discussed platforms. The dedicated handover button is located on the right side of the interface. When the active interpreter clicks it, a series of confirmations need to happen between the active and passive interpreter. But manual handovers are also able, and passive interpreters can take over by merely clicking the mic button, causing the active interpreter's microphone to automatically switch off.
Although support might not be as fast as the responses offered in the most expensive platforms like KUDO, there's nothing wrong with Interactio's technical support. A slightly delayed response time might be due to unprecedented intake levels and can easily be improved.
Technical Requirements for the Remote Interpreting Apps
Ethernet connection with a ping less than 100 milliseconds and up-and-download speeds of at least 10Mbps.

Google Chrome browser.

Professional headset
Recap:
Interpreting and event platform that supports a wide range of features, including chat and screen sharing.

Interface indicates the interpreter's streaming time.

Easy to perform manual handovers.

Not many technical requirements for getting started.

No mobile app available.
#6 – SPEAKUS
SPEAKUS and VERSPEAK have been identical in terms of functionality for a long time, but recently, VERSPEAK launched a new interface with their latest release. It's worth mentioning that the company recently split into two brands.
SPEAKUS is a dedicated remote interpreting platform that connects to external programs to offer interpreting services for online events.
The SPEAKUS interface is straightforward yet effective and contains pretty much all the basics you could need for video remote interpretation. You can configure a few video channels and switch between them. Interpreters also have incoming and outgoing channels.
Controlling your microphone is something you can do with the On-Air button, and if you need to pause for a short period, you can just use the Mute button. Although there are a few basic prompts you can use, including "Ok" and "Clear," you can't talk to a moderator on SPEAKUS. Instead, you'll have to resort to the dedicated WhatsApp chat group.
Technical Requirements for the Remote Interpreting Apps
Intel Core i3 or higher, 4GB RAM, Windows 8.0 or higher

Ethernet connection with a minimum up-and-download speed of 10Mbps

Mozilla Firefox browser
Recap:
Dedicated remote interpreting platform

Interface is basic and straightforward.

Doesn't offer communication with moderators.

No automatic handover option available.

Excellent technical support with responses generally offered within an hour via external applications like WhatsApp.
#7 – VERSPEAK
Like SPEAKUS, VERSPEAK is also a dedicated remote interpretation platform that connects to external programs to facilitate remote simultaneous interpreting.
You can configure several video channels that include the presenter's slides and switch between them when necessary. As can be expected, the interface features two incoming and two outgoing channels.
Interpreters can control their microphones with the On-Air button, and for short breaks, there's the Mute button. Unlike SPEAKUS, VERSPEAK does have a chat feature and also sports a dictionary and agenda, which help access conference materials.
Everything else, including the handover, onboarding, technical requirements, and technical support, is identical to those found in SPEAKUS.
Recap:
Dedicated interpreting platform.

Interface features chat, dictionary, and agenda features.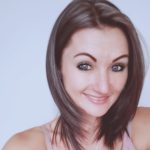 Seldean Smith
Seldean is a multi-skilled content wizard that dedicates herself to writing content that goes beyond merely sparking interest in the audience.